Can you survive against horrifying hordes of the undead? See for yourself during Zombie Survival! Defend yourself in a world overrun by zombies by gaining in-depth, hands-on knowledge through virtual trainer and simulation rooms, where you'll learn the ins and outs of real handguns and rifles before making your way to the Shoot House. Unlike any other shooting experience in Sin City, the Shoot House catapults you right into the "lights out challenge" in this wild 360-degree shooting facility It's a race against the clock in the most realistic counter-terrorist simulator you'll ever experience using a real Glock firearm and loaded with Man-Marker rounds.
Now Open, 10AM to 4PM Every Day. Come Have A Blast!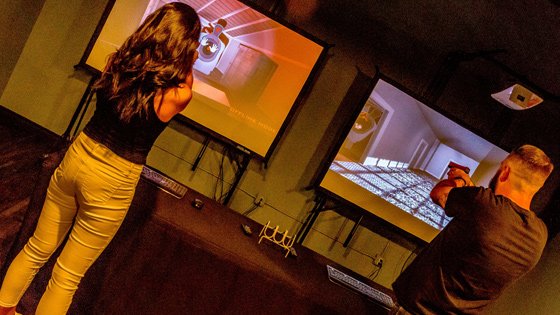 STEP 1
HONE YOUR SKILLS
Shooting Fundamentals
in our Training Simulator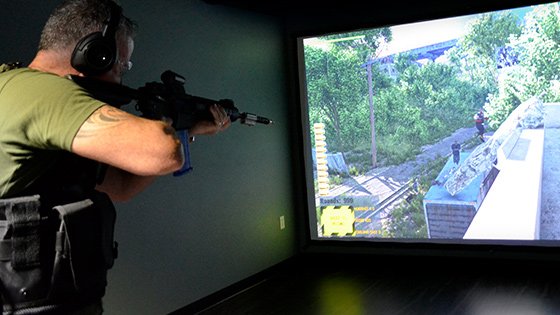 STEP 2
IMMERSE YOURSELF
High-Definition
Immersion Room
We have many virtual battlefields
to choose from
1 – 15 Round Glock Magazine
Non-Lethal Ammo
1 – 20 Round AR Rifle Magazine
Non-Lethal Ammo
STEP 3
SURVIVE
Shoot House Mission
Lights Out Challenge
1 – 15 Round Glock Magazine
Non-Lethal Ammo
DO YOU WANT TO GO TO A GUN RANGE OR A GUN FIGHT?
Experience the thrills of bold firepower, heart-pounding excitement, and action-packed fun.  Top Shot Las Vegas combines the authentic shooting experience of a gun range with the fun of first-person-shooter gaming.
Using real firearms with modified ammo, the Top Shot experience combines three elements to create an extraordinary shooting adventure.
TESTIMONIALS
TOP 10 THINGS TO DO IN VEGAS ON YELP! & TRIP ADVISOR
TOP SHOT IS ONE OF THOSE THINGS YOU JUST HAVE TO EXPERIENCE TO UNDERSTAND HOW AWESOME IT IS. CLICK THE LINKS BELOW TO SEE WHAT REAL PEOPLE ARE SAYING.
Location
Top Shot Las Vegas
3084 S. Highland Drive
Suite C
Las Vegas, Nevada 89109
Hours
Mon: 10am - 4pm
Tue: 10am - 4pm
Wed:10am - 4pm
Thur: 10am - 4pm
Fri: 10am - 4pm
Sat: 10am - 4pm
Sun: 10am - 4pm
Send A Message / Ask A Question